Silvertone SS11 Revolver Electric Guitar Package

Precision built by the world's most experienced guitar manufacturer, the SS11 offers similar features to some of the most popular guitars in the world. You'll also get the Smart III amp, surprisingly loud for its size, with a tape/CD input for playing along with your favorite tunes as well as a headphone out to practice quietly.


Manufacturer: Silvertone
Category: Electric Guitar Packs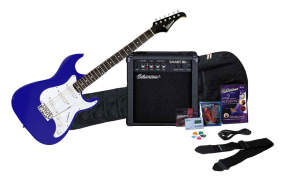 Review




I bought this guitar used, with intentions of using the body to place one of my carving design upon. But, before I dug one groove into its surface, I had to take it for a spin first. What I discovered was guitar, with a fast comfortable neck, three single coils and five tone options. Each offered a very usable tone, for the many styles of music I play. It has a nice weight and is built solid. I have 10 guitars, all costing many times above the price of this axe, but I often find myself pulling this one out again and again. Especially when I'm using my Zoom multi effects box. I have since ungraded with schaller tuners and custom alligator pickguard w/matching pickup covers. Fender hot noiseless jeff beck pickups and all the jeff beck signature wiring, switches, volume, tone and input that come in his model. Custom wood and pearl knobs and dr neon strings. This Silvertone has now been transformed into what I call the SlithertoneMonstercaster Faux/Fender Tonebender. So, I would recommend buying this guitar. Learn your licks. My learning style was, just pick it up and start shredding. When you think you've outgrown this model, I suggest a major hot rodding to its components and then you'll be set to take on the world. Rock Hard with feeeeeeling!